Sandy Rodriguez | Artist's Lecture
April 4 @ 5:00 pm

-

7:00 pm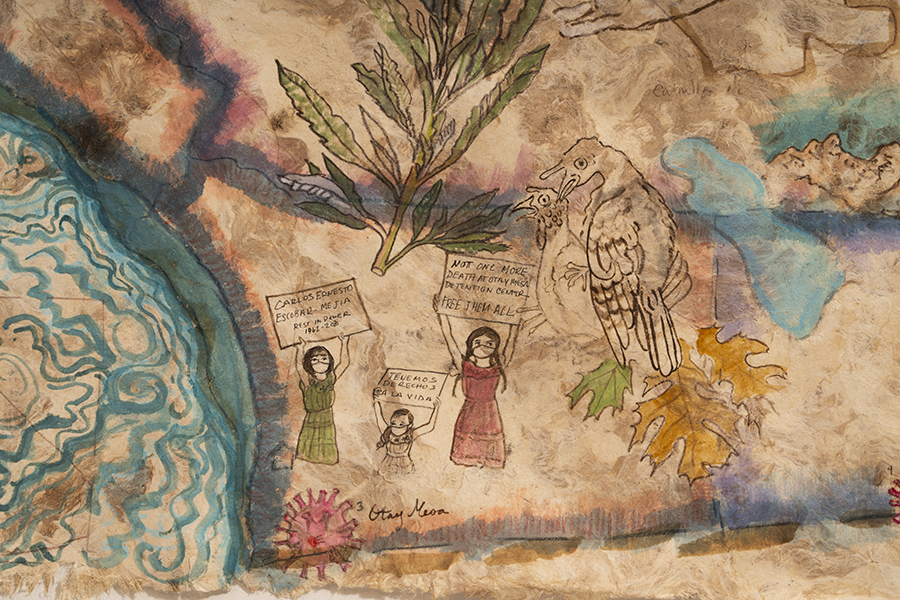 The Center for Women in the Arts and Humanities is pleased to announce that renowned artist Sandy Rodriguez, has been named the 2022-23 Estelle Lebowitz Endowed Visiting Artist at Rutgers, The State University of New Jersey. The Lebowitz program annually brings to the University community and general public the work and ideas of exceptional women artists through solo exhibitions, lectures, and short campus residencies.
Sandy Rodriguez: To Translate the Unfathomable will be on view from January 17 – April 7, 2023, in the Mary H. Dana Women Artists Series Galleries, Douglass Library. Rodriguez's recent work consists of maps, botanical studies, and figural compositions painted in hand processed watercolors on amate paper with techniques, forms, and pigments of Mesoamerican manuscripts produced by the Mexica people and other Mexican natives in the first century after the Conquest of Mexico (1519-21). The exhibition is curated by Tatiana Flores, Director, Center for Women in the Arts and Humanities and Professor of Art History and Latino & Caribbean Studies, and advised by Camilla Townsend, Distinguished Professor of History and Director of the Rutgers Working Group of Hemispheric Indigenous Studies. The exhibition will be the artist's first solo show on the East Coast. It will be accompanied by an online catalogue with an essay by Townsend.
The selection of works to be shown at Rutgers engages with themes of migration, ancestral memory, Indigenous knowledge systems, and hemispheric colonial histories. One part of the exhibition will be focused on over two dozen preparatory works on amate paper for Mapa for Malinche and our Stolen Sisters (2021), a recent commission of the Denver Art Museum of a large-scale map of Mexico and portions of the U.S. Southwest that traces the life of Malintzin, an Indigenous woman who served as translator for conquistador Hernán Cortés. Popularly known as La Malinche, her legacy looms large over Mexican culture—she is both commemorated as a feminist and reviled as a traitor. The remaining selection will consist of assorted recent drawings and maps that bring the past into the present through work focused on themes of migrant persecution and detention, family separation, and the persistence and recovery of Indigenous ancestral knowledge that are part of her ongoing series, Codex Rodriguez-Mondragon.
Rodriguez will deliver public lecture on Tuesday, April 4, 2023 at 5:30pm in the Mabel Smith Douglass Room, Douglass Library. There will be a reception in honor of artist from 5:00 – 5:30pm. Public attendees in need of parking must RSVP to womenart@cwah.rutgers.edu or risk citation. A recording of the artist's lecture will be made available on CWAH's Vimeo page after the event.
Sandy Rodriguez is a Los Angeles-based Chicana artist. She has been the recipient of numerous awards, including the Creative Capital grant, the Caltech-Huntington Art + Research Residency, and the City of Los Angeles COLA Master Artist Fellowship. Her work forms part of important museum collections, including the Los Angeles County Museum of Art, the Crystal Bridges Museum of American Art, the Amon Carter Museum, and the Denver Art Museum.
VENUE INFORMATION
The Mary H. Dana Women Artists Series Galleries are located in the Mabel Smith Douglass Library (8 Chapel Drive, New Brunswick, NJ 08901). The galleries are free and open to the public. Hours are Monday-Thursday 9am-8pm; Friday 9am-6pm; Saturday 1pm-3pm (by appointment only) and are subject to the university libraries operating schedule. Further information about the exhibition, event rsvp/parking, and accessibility services can be found at cwah.rutgers.edu. Please direct all inquiries to: womenart@cwah.rutgers.edu.
SPONSORS
The Lebowitz program is funded in part by the Estelle Lebowitz Memorial Fund, endowed in 1999 by Professor Joel Lebowitz, Director of the Center for Mathematical Sciences Research, Rutgers University, in honor of his late wife, artist Estelle Lebowitz. Sponsored by the Center for Women in the Arts and Humanities, Department of History, and the Institute for the Study of Global Racial Justice. Co-sponsored by the Center for Latin American Studies, Department of Art History, Department of Latino and Caribbean Studies, Department of Spanish and Portuguese, Institute for Women's Leadership, Rutgers Advanced Institute for Critical Caribbean Studies, and The Language Center. The Mary H. Dana Women Artists Series is a program of CWAH in partnership with Rutgers University Libraries.
Click here for a PDF of Press Release
Top Image:
Sandy Rodriguez, (detail) Map for the Migrants Captured, Caged and Abused in I.C.E. Detention Centers in So. Califas, 2020-21 (from Codex Rodriguez-Mondragón, 2017- ), 32.5 x 47 inches, hand processed watercolor on amate paper. Courtesy of Sandy Rodriguez. Collection of Joshua Tree Highlands Artist Residency.
Bottom Images (left to right):
Sandy Rodriguez, Mapa for Malinche and our Stolen Sisters, Studies 1-27, 2021. Courtesy of Sandy Rodriguez. Photo credit: Elon Schoenholz
– Study No. 14- Birth of Martin, 12 x 8 inches, hand processed watercolor on amate paper
– Study No. 1b- Relaciones Geographicas Tabasco – locating Coatzacoalcos, 8 x 7.5 inches, hand processed watercolor on amate paper with 23k gold
– Study No. 10- Templo, 12 x 8 inches, hand processed watercolor on amate paper